Every Velocity checking account comes with a free debit card.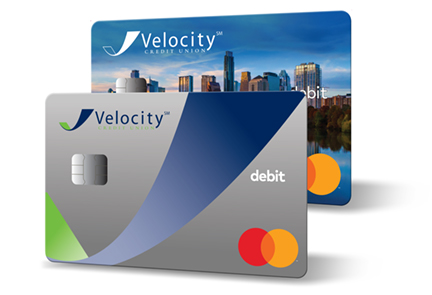 Our Mastercard® debit card is a convenient and safe way to pay for purchases — even online — and you can use it at ATMs. One card does it all! The Velocity Rewards debit card, which earns you points for dining, merchandise, gift cards, travel, and more with every signature-based purchase, is available for a $20 annual fee.
Click here for additional core benefits our debit cardholders enjoy.
Choose the account that works for you.

No matter what you prefer, we have a checking account to meet your needs — Totally Free or interest-bearing, both with free online banking, mobile banking, mobile check deposit, and bill pay.
And if you choose direct deposit for your paycheck, we credit funds to your account as soon as we receive them from your employer — up to two days early! Look at these options and decide which account works best for you:
Totally Free Checking
Check Plus
Minimum Balance:
None
$750 average daily balance
Direct Deposit Requirement:
None
None
Service Fees:
None
None, if average daily balance remains equal to or above $750; otherwise, $7.50 per month
Dividends:
None
Variable, based on average daily balance of $750 or more
See Dividends