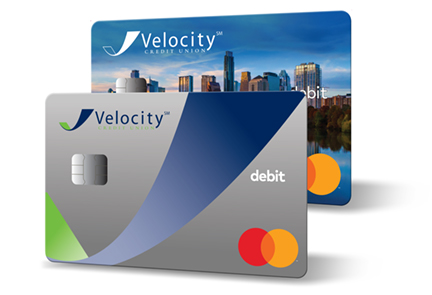 Mastercard® Debit Cards
Get a Mastercard® debit card FREE with your checking account. The Mastercard® debit card is a convenient and safe way to pay for what you want, when and where you want it — even online — and have your payments automatically deducted from your Velocity account. Plus, your debit card can be used at ATMs. One card does it all! Your monthly statement provides you with a record of all your Mastercard® debit card purchases.
Rewards Mastercard®
We've switched to CURewards, and your debit card Rewards are better than ever! Like our previous rewards program, you'll earn points as you use your card for "signature" or non-PIN transactions, whether at the retailer or online. Earn one point for every $3 purchase and redeem those points for dining, merchandise, gift cards, travel, etc. — and now, enjoy a new points-to-cash option.
Find all the details here.
The Rewards Mastercard has a $20 annual fee.
This Velocity Mastercard features convenient, secure contactless payment technology.
Contactless payment technology adds an extra level of security to your card-based transactions. Your name, security code and billing information are never transmitted. Along with account information, a one-time-only code is sent from the card to the reader to identify that transaction.
Lock
Look for the contactless symbol when paying for items. (You can insert or swipe your card if contactless payment is not available.)
Touch
Touch your contactless card against the symbol until the light turns green.
Confirm
A beep indicates successful payment.
Approved
Your payment is approved.
We value your safety
Convenience is important, but we want your transactions to be safe and secure. Here are a few ways we put that concern into action:
Velocity CardLock
Enjoy easy, on-the-go management of your Velocity cards. This app offers a convenient way to:
View recent and pending transactions with account details.
Report your card lost or stolen.
Set alerts, controls, travel notifications, and more.
More Details
Debit Card & ATM Security
Here are some tips on how to protect yourself and your information during your ATM visits.
Read More